EAT real foods. MOVE your body. LOVE your life.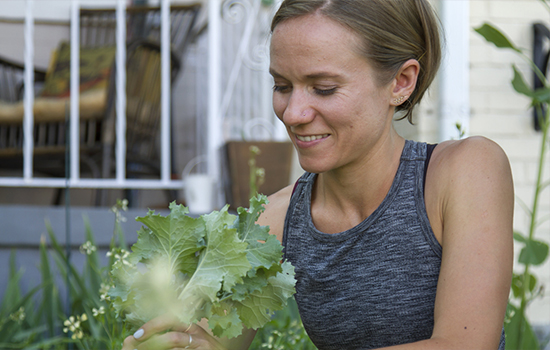 In the words of Chef Cody Penton, the key to eating healthy is "all about maintaining a balance of clean, unadulterated food." The more whole, real foods you consume–these are the ones that come from the ground, tree or vine–the more vibrant and powerful your body will feel. Certain foods offer higher levels of vitamins and nutrients, but a sustainable healthy diet is seasoned with a hearty dash of variety and a pinch of moderation.
All of us start from different places when it comes to what we put in our bodies, which makes shifting your diet, lifestyle, and/or perspective on food  a very unique and personal endeavor. When I work with people to redesign their relationship with food, I teach them how to process the proud moments and frustrations that accompany any change. We always begin by becoming aware and attentive to what you are putting in your body, and how those foods and drinks make you feel. Tuning in will empower you to make both small and big adjustments to feel your best. From there, together we will develop a nutritional road-map that you can get behind and stick to. This is something that can evolve over time to meet your changing body, mind and scheduling needs. In our work together, we will look at your diet and also at the big picture to help you live a life that is healthy and balanced.
Long-term health and well-being is a journey but one that is well worth the effort. Making a conscious choice to take care of yourself whole-heartedly will impact every part of your life on a profound level.
[icon_text box_type="normal" icon="fa-users" icon_type="normal" icon_position="left" icon_size="fa-2x" use_custom_icon_size="no" title="Cooking Lessons (private or small group)" separator="no" text="Description text here. Placeholder text. " icon_color="#ffffff" icon_hover_color="#a694a9″ title_color="#ffffff" text_color="#ffffff"]
[icon_text box_type="normal" icon="fa-search" icon_type="normal" icon_position="left" icon_size="fa-2x" use_custom_icon_size="no" title="Kitchen Evaluation & Pantry Cleanse" separator="no" text="Description text here. Placeholder text. " icon_color="#ffffff" icon_hover_color="#a694a9″ title_color="#ffffff" text_color="#ffffff"]
[icon_text box_type="normal" icon="fa-paint-brush" icon_type="normal" icon_position="left" icon_size="fa-2x" use_custom_icon_size="no" title="The Art of Leftovers" separator="no" text="Description text here. Placeholder text. " icon_color="#ffffff" icon_hover_color="#a694a9″ title_color="#ffffff" text_color="#ffffff"]
[icon_text box_type="normal" icon="fa-times" icon_type="normal" icon_position="left" icon_size="fa-2x" use_custom_icon_size="no" title="Allergy/Elimination Diet" separator="no" text="Description text here. Placeholder text. " icon_color="#ffffff" icon_hover_color="#a694a9″ title_color="#ffffff" text_color="#ffffff"]
[icon_text box_type="normal" icon="fa-cutlery" icon_type="normal" icon_position="left" icon_size="fa-2x" use_custom_icon_size="no" title="Personal Chef Services" separator="no" text="Description text here. Placeholder text. " icon_color="#ffffff" icon_hover_color="#a694a9″ title_color="#ffffff" text_color="#ffffff"]
[icon_text box_type="normal" icon="fa-check" icon_type="normal" icon_position="left" icon_size="fa-2x" use_custom_icon_size="no" title="Effective Food Prep & Batch Cooking" separator="no" text="Description text here. Placeholder text. " icon_color="#ffffff" icon_hover_color="#a694a9″ title_color="#ffffff" text_color="#ffffff"]
[icon_text box_type="normal" icon="fa-shopping-cart" icon_type="normal" icon_position="left" icon_size="fa-2x" use_custom_icon_size="no" title="Empowered Grocery Shopping" separator="no" text="Description text here. Placeholder text. " icon_color="#ffffff" icon_hover_color="#a694a9″ title_color="#ffffff" text_color="#ffffff"]
[icon_text box_type="normal" icon="fa-leaf" icon_type="normal" icon_position="left" icon_size="fa-2x" use_custom_icon_size="no" title="Guided 10-Day Detox" separator="no" text="Description text here. Placeholder text. " icon_color="#ffffff" icon_hover_color="#a694a9″ title_color="#ffffff" text_color="#ffffff"]
[icon_text box_type="normal" icon="fa-calendar" icon_type="normal" icon_position="left" icon_size="fa-2x" use_custom_icon_size="no" title="Meal Planning with Weekly Recipes" separator="no" text="Description text here. Placeholder text. " icon_color="#ffffff" icon_hover_color="#a694a9″ title_color="#ffffff" text_color="#ffffff"]
[icon_text box_type="normal" icon="fa-money" icon_type="normal" icon_position="left" icon_size="fa-2x" use_custom_icon_size="no" title="Budgeting, Time Management & Creating a System" separator="no" text="Description text here. Placeholder text. " icon_color="#ffffff" icon_hover_color="#a694a9″ title_color="#ffffff" text_color="#ffffff"]
[icon_text box_type="normal" icon="fa-book" icon_type="normal" icon_position="left" icon_size="fa-2x" use_custom_icon_size="no" title="How to Read Food Labels" separator="no" text="Description text here. Placeholder text. " icon_color="#ffffff" icon_hover_color="#a694a9″ title_color="#ffffff" text_color="#ffffff"]
[icon_text box_type="normal" icon="fa-certificate" icon_type="normal" icon_position="left" icon_size="fa-2x" use_custom_icon_size="no" title="Special Diets: Gluten, Dairy, Soy, Paleo, Anti-Inflammatory" separator="no" text="Description text here. Placeholder text. " icon_color="#ffffff" icon_hover_color="#a694a9″ title_color="#ffffff" text_color="#ffffff"]